May 27, 2021 - Thanks to a partnership between local governments, river enthusiasts and community organizations, nearly 200 new signs and information kiosks have been installed along the Truckee River and Tahoe Pyramid Trail Corridor. The signage project was undertaken as part of the One Truckee River Management Plan unanimously adopted in 2016 by the City of Reno, City of Sparks and Washoe County. A dedication was held Thursday, May 27, 2021 at Mayberry Park for the new river signs as part of Truckee River Month.
"This project is an excellent example of the power of One Truckee River," said Alicia Reban, executive director of Nevada Land Trust (NLT). "One Truckee River brings stakeholders together to collaborate and get things done on, along, and for the Truckee River. It's one river, and it makes sense to approach it that way," Reban said.
Signs are placed for maximum visibility for approximately 20 miles from Crystal Peak Park in Verdi to Larkin Circle in Sparks. Information on the signs varies by location and can include maps, directions, mile markers, river rules for kayakers and rafters, path rules for bikers and pedestrians, interpretive information, and "Know Before You Go" tips for enjoying the river. They also provide more accurate mileage and location information to first responders in the event of emergencies along the river.
"The citizens of our community depend on the Truckee River," said Washoe County Commissioner Alexis Hill. "It provides our water, recreation, solace, wildlife habitat, and so much more. Working closely with Reno and Sparks and others to coordinate river signage helps connect residents and visitors to this precious resource," Hill added.
"The Truckee River is truly the heart of the Truckee Meadows," said Reno City Councilmember Jenny Brekhus. "I appreciate the engagement by all the stakeholders to create recognizable, attractive, and consistent signage along this entire stretch of the river for cyclists, walkers, anglers, kayakers and other trail and river users."
"This project has been a great collaboration between the cities of Sparks, Reno, Washoe County and One Truckee River," said Sparks Mayor Ed Lawson. "These new signs and kiosks unify the route all the way from Sparks to Verdi, helping our residents and visitors alike enjoy the amazing beauty of our region."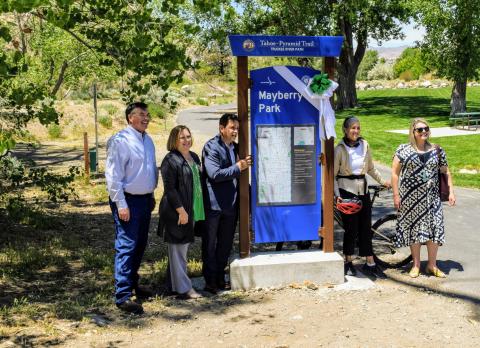 Nevada Land Trust, who along with Keep Truckee Meadows Beautiful helped found One Truckee River (OTR) in 2015, managed the signage project on behalf of OTR. Other project partners included Tahoe-Pyramid Trail, Truckee Meadows Water Authority, City of Sparks, City of Reno, and Washoe County. Planning for the Truckee River Signage and Wayfinding project was funded through a grant from the Truckee River Fund at the Community Foundation of Northern Nevada. Fabrication and installation of the signs were funded by Washoe County through a grant from the 2002 State Question 1 Parks and Open Space Bond. YESCO was selected as the contractor for fabrication and installation, and all 241 signs were manufactured at YESCO's Reno facility.
"The leadership of the Tahoe-Pyramid Trail is thrilled to see the completed results of the One Truckee River sign project along the trail," said project volunteer Sam Limerick. "The new signs are consistent, beautiful and will improve wayfinding for trail users. We appreciate being included in the One Truckee River Sign Committee to design and place the signs."
-###-
Nevada Land Trust is our state's first independent, accredited land trust. It has helped to protect nearly 60,000 acres of land and associated water rights, working closely with landowners, communities, agencies, donors, and other stakeholders since its founding in 1998. Nevada Land Trust works to protect the special places and open spaces of Nevada for future generations. www.nevadalandtrust.org
One Truckee River (OTR) is a collaboration of public and private partners focused on the implementation of the OTR Management Plan Phase I unanimously adopted by Washoe County, City of Reno, and the City of Sparks in 2016. OTR's mission is to ensure a healthy, thriving, sustainable river connected to the hearts and minds of our community. www.onetruckeeriver.org
Tahoe-Pyramid Trail is based on a vision for a trail that would follow the entire length of the Truckee River, from its source at forested Lake Tahoe to the desert terminus of Pyramid Lake. The current route can be traveled by foot or bicycle, and when fully completed, will descend over 2000 feet during the entire course of the 114-mile long trail, using a combination of existing dirt and paved roads, bike paths, historic roads, as well as many new sections of trail and connecting bridges. www.tahoepyramidtrail.org
YESCO specializes in the manufacture of custom electric signs, sign maintenance and out-of-home advertising. In addition, YESCO operates sign and lighting service repair stores throughout North America as well as a sign financing business. YESCO began by offering wall painted advertisements, gold-leaf window lettering and coffin plates. Today, helmed by the second, third and fourth generations of the founder's family, YESCO creates, services and maintains award-winning displays for some of the most prestigious brands. www.YESCO.com