Learn how to take charge of your money and estate with the Family Estate Planning Series, held online every Wednesday from March 17 - May 5, 2021. The Community Foundation of Western Nevada and KNPB Channel 5, along with Nevada Land Trust and other nonprofit sponsors, are pleased to present this series of free, in-depth workshops on estate planning.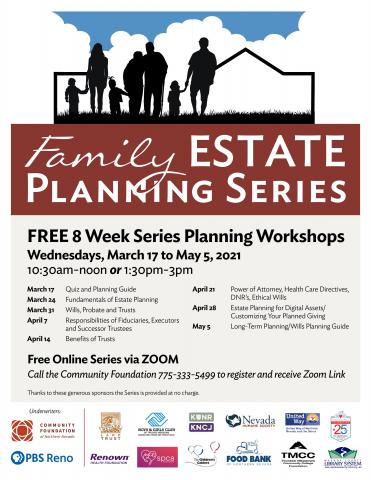 For reservations or questions, contact the Community Foundation of Western Nevada at 775-333-5499 or www.nevadafund.org.
These classes are offered to you as a public service. No charity will solicit you for a donation. No financial or insurance products will be sold. Your name will not be given to the speakers. All speakers are volunteers and recognized local experts in their field.
Financial and estate decisions require knowledge in many areas; accounting, finance, legal, insurance, taxes, investments and charitable planning. Experts will help you navigate the areas of advanced health care directives; charitable income & tax planning; IRA, 401k, 403b and 457 plan distributions; being a trustee and executor; and more. The workshops take place over seven consecutive weeks.